Events - 2018
GUEST LECTURES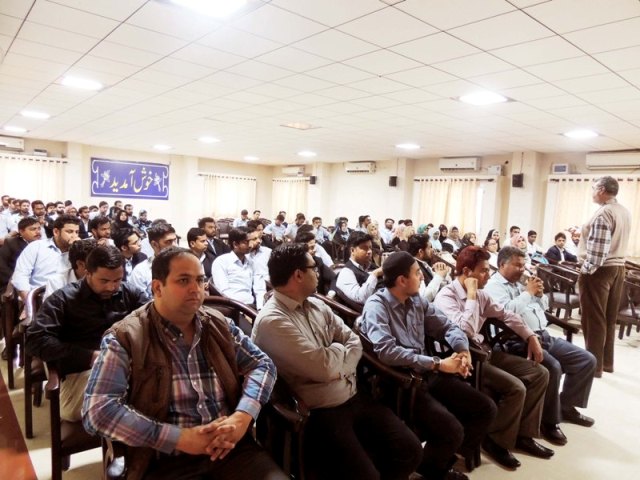 During the period some esteemed resource persons visited the campus for delivering guest lectures on strategically important topics. Dr. Md. Amirullah Khan, Associate Professor, Department of English, A.M.U., delivered an engaging lecture on the topic "Teaching Oral Communication for Developing Managerial Skills" for MBA 1 & 2 year students on February 28, 2018. Prof. Mohd. Shamim, Department of Commerce, A.M.U., delivered a highly informative talk on today's one of the most debatable and misunderstood topics "GST (Goods & Service Tax)" for MBA 1 & 2 year students on March 15, 2018. The need to prepare MBA students in basics and applications of Good &Services Tax (GST) had become necessary owing to feedback received from recent recruitment managers. The Director, ABIMS welcomed and felicitated the guests on these occasions. All the faculty members and students enthusiastically attended these guest lectures.
BLOOD DONATION CAMP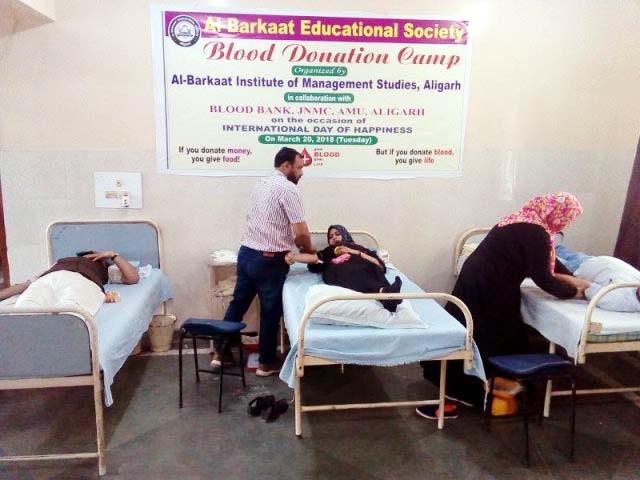 On March 20, 2018, on the occasion of International Day of Happiness, a Blood Donation Camp was organized by Al-Barkaat Institute of Management Studies, Aligarh in collaboration with Blood Bank, Jawaharlal Nehru Medical College & Hospital, Aligarh Muslim University, Aligarh. Students, teaching and non-teaching staff members of all sister institutions of Al-Barkaat Educational Institutions viz. Al-Barkaat Institute of Education (ABIE), Al-Barkaat College of Graduate Studies (ABCGS), Al-Barkaat Islamic Research & Training Institute (ABIRTI) voluntarily donated their blood. On the occasion Dr. Waseem Ahmad, Director, ABIMS encouraged and motivated the students to donate their blood at regular intervals pointing out that it would not only keep them health conscious but also it would save precious lives of other needy human beings. He not only encouraged the students and staff to donate the Blood but he was the first to donate his Blood.
JOB FAIR
A Mega Job Fair-2018 was organized by Dr. A.P.J. Abdul Kalam Technical University, Lucknow at Ghaziabad during April 11-12, 2018, where MBA final year students led by Placement Coordinators participated in the selection processes held by various recruiters in the Job Fair.
TCS ONLINE (MAT) TEST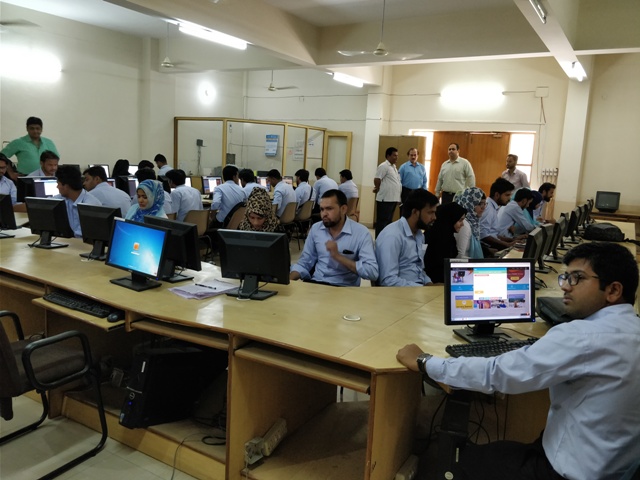 TCSion, Aligarh conducted free online Management Aptitude Test (MAT) for MBA first and final year students of Al-Barkaat Institute of Management Studies, Aligarh during April 18-21, 2018. TCSion MAT is an online test fully designed and developed by TCSion, a subsidiary of world renowned TATA Consultancy Services (TCS). TCSion MAT aims at making participants aware of their strong and weak areas. Students are tested in four areas; namely, Language Ability, Quantitative Techniques, Reasoning and, Business Awareness. The participants who score 60% or above in TCSion MAT are awarded certificates of appreciation. According to TCS Franchise Partner, TCS has also launched TCSignite to help students avail induction level placement opportunities available with TCS. Overall, the performance of ABIMS students was found to be satisfactory. Some of the students grabbed the TCSion Certificate of Appreciation for their remarkable performance.
FACULTY DEVELOPMENT PROGRAMME
On April 20, 2018 a Faculty Development Programme was organized by the Institute where faculty members of Al-Barkaat Institute of Management Studies (ABIMS), Al-Barkaat College of Graduate Studies (ABCGS) and Al-Barkaat Institute of Education (ABIE) participated. The FDP was conducted by Mr. Imran Khan, Founder & Chief Trainer, Carving Futures, Mumbai. The most interesting feature of this FDP was the extensive application of management games induced learning. All the faculty members participated enthusiastically and committed to apply the insights and learning gained during the session back to their class rooms teaching-learning pedagogy. Director, ABIMS welcomed and felicitated the guest.
CAMPUS PLACEMENT WEEK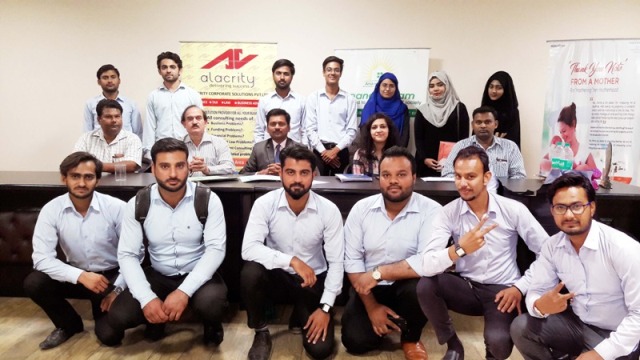 The Placement Week was organized by the Institute during April 21-27, 2018. Various notable recruiters like Radex Stationeries India (P) Limited (Whale Group), Eureka Forbes Limited, TCsion, CADD Centre, VQMS Management Consultants, Alacrity Corporate Solutions, Soothika Ventures (P) Limited, DSIT, Aanandashram, Investors' Clinic, Jebelz.com, RR Financial Consultants Limited, Just Dial, Teleperformance India, Techson Infotech, Comrade HR Solutions, Franchise India, KIPS Publishing Group, MyOperator, Edelweiss Capital Limited and, Internshala conducted their selection processes and selected students for final placement and summer training. Safwan Akhtar (07) got the highest number of job offers while Zuhaib Khan, Naveed Ahmad and Habiba Rehman shared the second spot with 05 offers each. Abdul Raziq, Hiba Zaidi and Sumaira Arif shared third spot, each getting 04 offers. In total 92 job offers for final placements and 62 offers for summer training were generated during the Placement Week.
FAREWELL PARTY 'ARGHAN'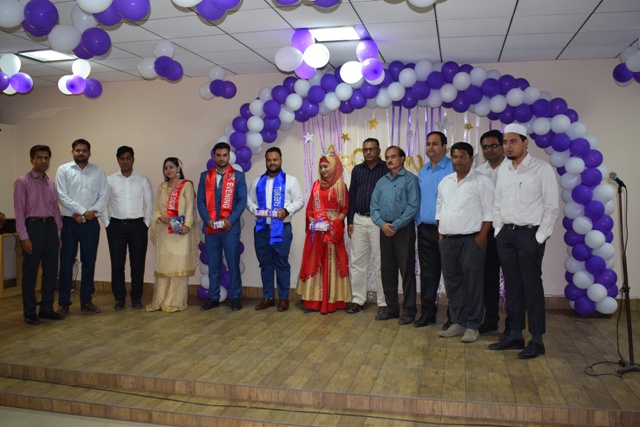 MBA I year bid adieu to their senior batch by organizing a Farewell Party 'ARGHAN' on April 28, 2018. The Director, ABIMS in his welcome address urged the students to strongly hold the moral & ethical values in their personal & professional life and also lauded the organizing team for beautiful arrangements. Dr. Ahmad Mujtaba Siddiqui, Joint Secretary, ABES emphasized that the students should follow the principle of 'simple living & high thinking' as it has always been the success mantra of great people and also appreciated the performance displayed by seniors during the campus placements. Shabnam Ansari, Shadav Khan, and Rajul Upreti entertained the gathering by presenting beautiful songs. After two-rounds of selection process, Safwaan Akhtar and Tarannum emerged Mr. Fresher and Ms Fresher respectively while Nissar Zafar Sofi and Wardah Tamhid bagged Mr. Evening and Ms. Evening titles respectively.
ORIENTATION PROGRAMME
MBA 1st semester Orientation Programme was held on August 16, 2018. The programme covered new entrants' thorough briefing about the syllabus, examination pattern, Executive Committee of the Society and Governing Body of Institute. New batch students were also briefed about training and placement cell activities, Students' code of conduct, soft skills, life skills, communication skills and business programme vocabulary exercises. Towards the end, fresher's enjoyed while taking active part in some management games. The Director, ABIMS along with faculty & staff were present during the programme.
TEACHERS' DAY CELEBRATION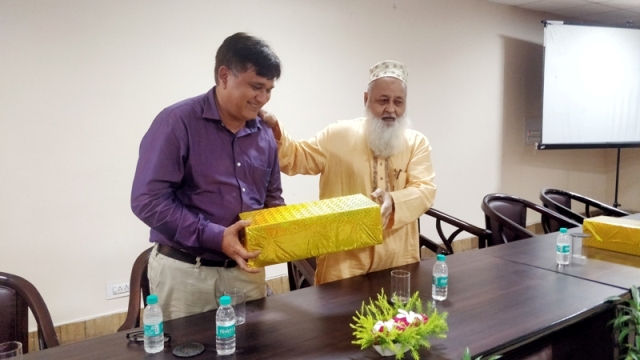 The Al-Barkaat Educational Society felicitated its faculty members from various sister institutions on the auspicious occasion, of Teachers' Day. On the occasion, Honorable President of the Society Prof. Syed Muhammad Amin bestowed his love and blessings to the ABES teaching fraternity by sharing his inspiring life experiences of his interactions with his teachers when he was a student and with his disciples as himself as a teacher. Dr. Ahmad Mujtaba Siddiqui the Joint Secretary, Al-Barkaat Educational Society and Dr. F.U. Siddiqui, Coordinator, Al-Barkaat Educational Institutions blessed the teaching fraternity with their kind and encouraging words. They both emphasised the strategic importance of teachers as the catalysts of social change. The Vote of thanks was proposed by Mrs. Sabiha Khan, Principal, Al-Barkaat Public School.
ABIMS- A TEST PRACTICE CENTRE (TPC) OF NTA (NATIONAL TESTING AGENCY), MHRD, GOI
As per directives of Min. of HRD, GOI, New Delhi, the NTA (National Testing Agency) decided to establish a network of TPCs (Test Practice Centres) throughout India for students belonging to rural/ nearby areas so that they can get an opportunity to practice on computers before taking their various competitive exams. like JEE, NEET, NET/JRF and also CMAT, CAT etc. in future. The Educational Institutions were accordingly approached by them and therefore, we got our Institute registered as it fulfilled the prescribed criteria for TPC. The designated TPCs are available free of charge to such students (who get themselves registered with the institution of their choice) on Saturdays (1 shift of 3 hours) and Sundays (2 shifts, each of 3 hrs.). In a month therefore, there are total 12 shifts operational. And for this service, they will be paying to each TPC some amount of monthly remuneration. It has become operational w.e.f. September 08, 2018 and our Centre has received wider recognition particularly amongst NET and JRF aspirants of University (AMU) besides JEE aspirants of the University and also of nearby areas. Till date around 600 students were allotted to us of which a majority has undertaken their practice session. These practice sessions will continue till respective Tests are conducted. However, the Government of India has plans to continue these Centres for future also.
GUEST LECTURE
A Guest Lecture was delivered on October 6, 2018 by an International Motivational Trainercum- Counsaller and Founder resident, Raabta Foundation, Pune (Maharastra), Mr. Sayyed Saeed Ahmed on personality development on the theme "I am the Best-Design Your Own Future". The students of Al-Barkaat Institute of Management Studies (ABIMS), Al-Barkaat Institute of Education (ABIE) and Al-Barkaat College of Graduate Studies (ABCGS) along with faculty members enthusiastically attended the event. The Director, ABIMS, welcomed, felicitated and presented vote of thanks to the guest speaker. A Guest Lecture was organized on 23rd October 2018 in ABIMS Convention Hall, wherein Mr. Ahmad Nadeem, Co-founder, FSN Consulting Services LLP delivered an informative lecture on "How to Face an Interview". The Director, ABIMS welcomed the guest by presenting him a bouquet and memento. All the faculty members along with students of MBA First and Final years were present during the session. The T&P team thanked Mr. Ahmad Nadeem for sparing his valuable time with students and guiding them through the tips and techniques of interviews.
FRESHER'S PARTY 'KHWABEEDA'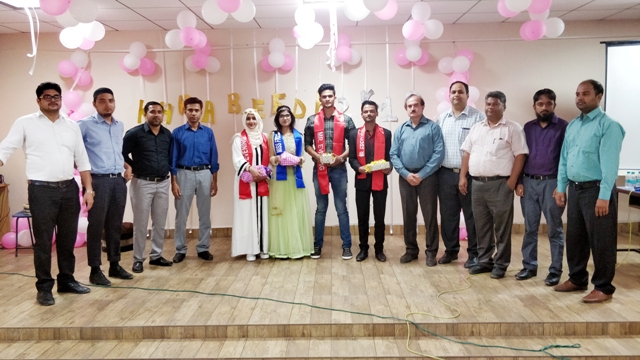 The Students of MBA Final year arranged and organized a grand Fresher's party for MBA First year students in the name and title of "Khwabeeda 2K18" on October 10, 2018. Lubna Aijaz, Mohd Farhan, Anam Parvaiz & Zubair Ahmad bagged Ms. Fresher, Mr. Fresher, Ms. Evening and Mr. Evening titles respectively. Seniors as well as juniors displayed and demonstrated their talents through various cultural activities like solo and group songs, mimicry, mono-acting, skit which were highly appreciated by the audience. Fauziya Parveen, Abu Sufiyan, Nayla Parveen, Saima Khan etc presented a heart wrenching skit on Women Empowerment which won the hearts of the audience. The event ended with the National Anthem. During the event Director, ABIMS, Faculty and staff members were present.
TIKONA INFINET PRIVATE LIMITED CAMPUS PLACEMENT DRIVE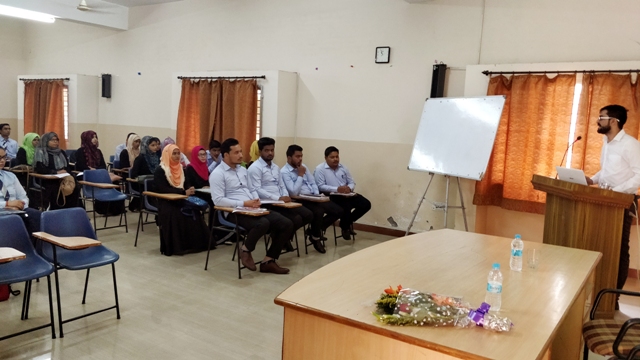 India's leading company in broadband and wifi products and services, Tikona Infinet Private Limited conducted a pooled campus placement drive in Al-Barkaat Institute of Management Studies on 20th October, 2018. Campus Lead Mr. Gohar Zahid Siddiqui from company's Mumbai head quarters oriented, assessed and selected participating MBA and BBA final year students from ABIMS, ABCGS and ACET. Students went through group discussion (GD) and personal Interview (PI) rounds of selection process and finally eight (08) students from ABIMS, two (02) students each from ABCGS and ACET bagged the offers of employment. Director ABIMS and TPO & team welcomed the selection panel. The Coordinator, ABEIs Dr. FU Siddiqui thanked Mr. Gohar Zahid for choosing Al-Barkaat Educational Institutions for his company's hiring needs.
TOUR JAISALMER, JAIPUR, RAJASTHAN
The MBA III-semester students toured some of the important historical and adventurous places in the state of Rajasthan, a state in North India famous for its Rajputana culture and Thar dessert during October 26-31, 2018. The students and faculty coordinators visited various points viz. Jaisalmer, Jaipur and Bhangarh and took part in different activities like Camping, Dessert Safari, Bone Fire, Rock Climbing, Rajasthani Folk Dance etc. Overall the trip was amazing and a memorable experience for all.
INDUSTRIAL VISIT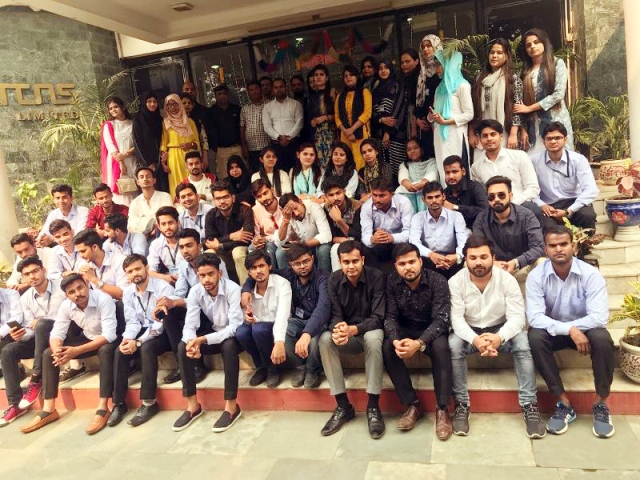 MBA-First year students visited manufacturing plant of one of the India's leading ready-made garments manufacturing plant of TCNS Limited, Noida on October 27, 2018. The TCNS Limited is an organization with more than four decades of experience in providing customized Apparel Products to numerous esteemed international brands. Having started operations in 1972, TCNS prides in being an efficient, ethical and reliable sourcing base for many of leading Global Apparel Brands like GAP, CK, Disney, Walmart, NEXT,Gucci to name a few. The students along with faculty coordinators were welcomed by Mr. A. Rahman Khan, Manager HR. After refreshment, the students visited the manufacturing facilities.
RASTRIYA EKTA DIWAS (NATIONAL UNITY DAY)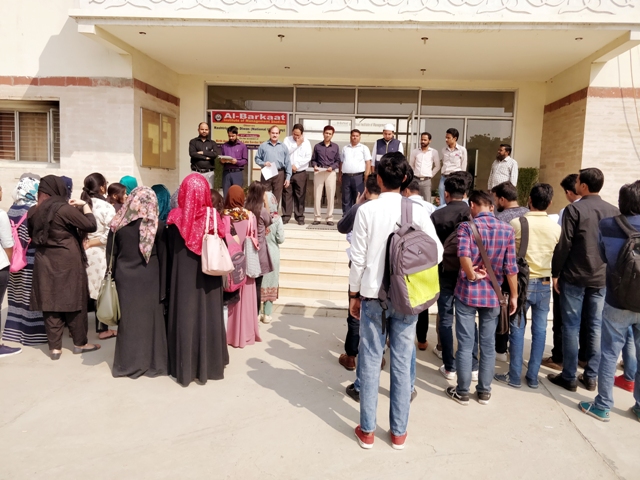 The Al-Barkaat Institute of Management Studies observed Rastriya Ekta Diwas (National Unity Day) on the auspicious occasion of the birth anniversary of Sardar Vallabhbhai Patel on 31st October, 2018. On the occasion, Director, Faculty, Staff and Students of the Institute took the pledge. While talking on the occasion, the Director, ABIMS mentioned about the role Sardar Vallabhbhai Patel played during the India's Independence Movement and after Independence for the integration of the country. His uncompromising efforts towards consolidation of country earned him the title "IronMan of India". With this, he told the students that the role Sardar Patel played for the unity of country does not end with him; it is now we who all have to carry forward his efforts and keep the country united.
Communal Harmony Campaign Week
Al-Barkaat Institute of Management Studies observed Communal Harmony Campaign Week during November 19-25, 2018. On November 24, 2018, taking inspiration from Communal Harmony aims, students of the institute donated and distributed clothes and financial aid to the poor families. The Director, faculty, Staff and students took active part in the event.