About the Society
About the Society
The Al-Barkaat Educational Society is dedicated to the memory of renowned Persian and Hindi Sufi poet, Syed Shah Barkatullah of Marehra Sharif in the District of Etah in Uttar Pradesh. The Society came into existence in 1995 after registration with the Registrar of Societies of Uttar Pradesh under the Societies Registration Act 1980.
With a clear aim to establish and administer educational institutions, as guaranteed under Article 30 of the Indian Constitution, the Society established Al-Barkaat Institute of Management Studies in 2004. The same year we enrolled our first batch of MBA students for the 2004-05 academic year.
Al-Barkaat Educational Society (ABES) aims to establish and administer educational institutions under the rights and duties as provided under Article 30 of the Indian Constitution.
The Society derives inspiration from the life and teachings of a galaxy of illustrious Sufis of Khanqah-e-Barkaatiya, Mahrehra Sharif, District Etah, Uttar Pradesh.
The family headed by Sajjada Nasheen of Khanqah-e-Barkaatiya, Prof. S.M. Amin includes names which have long association with academics and education and have keen interest in developing quality educational institutions.
The Society is indebted to the eminent scholars from Aligarh Muslim University for their invaluable contribution in developing its educational plans.
Aims and Objectives of the Society
The Society aims:
o To establish and maintain educational institutions with the prefix 'Al-Barkaat';
o To establish and administer institutions under the rights and duties as provided under Article 30 of the Indian Constitution;
o To establish institutions for social, cultural, educational, moral, technical and societal upliftment of the country.
o To establish and maintain educational institutions from Nursery to Diploma/Degree level.
o To explore and open avenues in job oriented training to generate self-employment for women and less privileged people.
o To establish and run minority coaching centres for competitive tests/examinations;
o To affiliate institutions of the Society with relevant bodies.
o To grant financial assistance and award scholarships to deserving students.
o To promote tolerance, communal harmony and goodwill among various groups of people.
o To receive donations, aids, grants membership fees as well as movable and immovable properties in furtherance of the aims and objectives of the Society.
o To do all other legally permissible acts and things which are requisite or incidental to attain the aims and objectives of the Society.
o The Society seeks to provide quality education to all sections of the society, particularly the Muslim community. It first started a Public School and then established Al-Barkaat Institute of Management Studies.
o Being a non-profit organisation, Al-Barkaat Educational Society provides an ideal infrastructure and other facilities to students and a congenial environment for teaching and learning.

Introduction to Khanqah e Barkatiya
Khanqah e Barkatiya is a very renowned khanqah of Qadri order. Its silsila is widely known as Barkati Silsila. It originated in Bilgram, India and is named after Shah Barkatullah, the Saint of Marehra and its followers are known as Qadri Barkati. It is a sub-branch of the Qadri Silsila of Baghdad.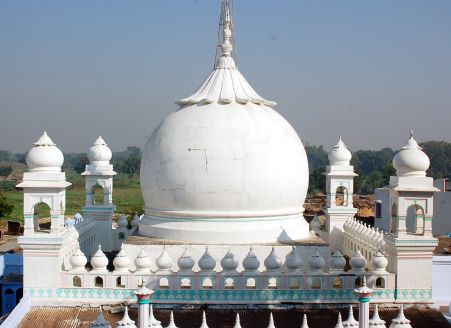 Shah Barkatullah, great-grandson of Mir Abdul Jaleel Wasiti Bilgrami (Born 13th Shawwal 1071 Hijri) originally followed the Chishti Order of Sunni Mysticism in India. However, on visiting Kalpi he was initiated into the Qadri order by Syed Shah Fadhlullah.
Shah Barkatullah, a versatile poet, wrote in both the Braj and Persian languages. His collective works in Braj entitled "Pem Prakaas" have been a focus of both Hindu and Muslim academic attention. Similarly "Diwan-e-Ishqui" is a collection of works in Persian under the alias Ishqui Marehravi. He was a key figure in Indian Sufism under the Mughal Emperor Aurangzeb Alamgir.
His eldest son, Shah Aley Muhammad (known as Sarkar-e-Kalan), continued his legacy dedicating himself to meditation and Dhikr. His son, Syed Shah Hamza, the third Qutub of Marehra, wrote many treatises on various Islamic Mystical subjects of which Kaashiful Astaar and Fassul Kalimaat are very famous.
Shah Hamza's son Syed Shah Aley Ahmad Achchey Miyan possessed a miraculous personality. He cured the ailing masses through his spiritual powers and became so popular that the town of Marehra came to be known as the Marehra of Achchey Miyan.
The eldest brother of Shah Amir-e-Alam, namely Syed Shah Aley Rasool Ahmadi, was a spiritual doyen of high caliber. He embodied the dynamics of Chishti and Qadri order.
He was followed by Hazrat Shah Abul Hussain Ahmad-e-Noori (alias Miyan Sahab) who was the last Qutub of Marehra dynasty. Thus the Dargah of Shah Barkatullah is a unique monastery where seven saints in the category of Qutub lay under one dome.
The seat of Hazrat Noori Miyan was inherited by his cousin Syed Shah Mehdi Hasan Sahab who was revered by the rulers of princely states like the Nizam of Hyderabad, the Nawab of Farrukhabad, and the Nawab of Rampur State.
This silsila was widely propagated by Syedul Ulema, Syed Shah Aley Mustafa Syed Marehrvi and Ahsanul Ulema, Syed Shah Mustafa Haider Hasan Marehrvi. Both of them were Sajjada Nashin of this famous seat of spiritual learning.
Syed Miyan of Marehra was also an established Aalim and Mufti of his time. He obtained his post graduation degree in Islamic Studies from Ajmer and Lahore. His Fatwas were produced in the High Court of Bombay to settle the property disputes and Talaq issues. He was the community Qazi of the Bakr Qassab Jama't in Mumbai as well as their Imam. He was the Sajjadah-Nasheen and Mutawalli of Dargah Shah Barkatullah in Marehra. He toured almost every part of the country and communicated to the masses the message of oneness and brotherhood. He wrote three books namely, Muqaddas Khatoon, Nai Roshni and Faiz-e-Tambih. Syed Miyan was an Urdu poet of high standard in the legacy of his uncle, Hazrat Ahsan Marehravi, the most favorite disciple of Dagh Dehlavi.
The younger brother of Hazrat Syedul Ulema was Hazrat Syed Shah Mustafa Haider Hasan Miya Marehrwi. He was the direct successor of Hazrat Syed Shah Ismail Hasan Sahib Marehrwi and Hazrat Syed Shah Mohammad Miya Marehrwi.
Ahsanul Ulema, Hazrat Hasan Miyan Qadri was Sajjadanasheen and established pure khanqahi system in his khanqah. He propagated the message of Islam and sunnat through his pious acts and verbal communication to his followers. He patronized various institutions of religious and contemporary education. He had four sons: first, Syed Mohd. Amin Miyan Qadri (Professor, A.M.U, Aligarh); second, Syed Mohd. Ashraf Miyan Qadri (Commissioner of Income Tax, Delhi); third, Syed Mohd. Afzal Miyan Qadri (I.G, Gwalior) and fourth, Syed Mohd. Najeev Haider Qadri (Sajjada-Nasheen Khanqah e Barkatiya of Noori Gaddi).