Events - 2016
ITTEHAD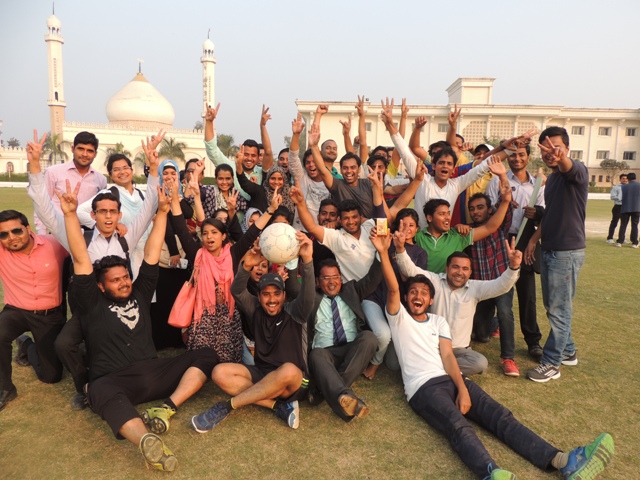 A Sports, Literary & Cultural Fest ITTEHAD-2016 was jointly organized by the sister institutions (minusing School) of Al-Barkaat Educational Society (ABES) during February 24-29, 2016.The atmosphere was full of fun-filled excitement where the teams from various institutions cooperated & competed with one another. The ABIMS stood first in Ad-Mad Show, Play & Skit, Football, Carom (Boys) and Table Tennis (Girls), and also bagged Runner-Up positions in Carom (Boys), Tug of War, Volleyball, TT (Boys), Extempore, Ad-Mad Show, Gen. Quiz, Badminton (Boys), Table Tennis (Girls) and Naat competition. The Fest Inaugural ceremony held on 24th of the month which was presided over by revered Father George Paul, Principal, St. Fidelis Sr. Secondary School, Aligarh and the Chief Guest was Mr. Praveen Agrawal, President, Public School Development Society, Aligarh. Its Closing & Prize Distribution Ceremony was organized on 29th of the Month which was presided over by the Hon'ble President, Al-Barkaat Educational Society (ABES), Prof. S.M. Amin and the Chief Guest of the function was Prof. Javaid Akhter, Controller of Examinations, AMU, Aligarh. The program was conducted by the Joint Secretary, ABES and Vote of Thanks was proposed by the Convener of the event Dr. F.U. Siddiqui, Coordinator, ABEIs. These occasions were witnessed by the Director, ABIMS, Dr. Waseem Ahmad and the heads & faculty members of all other institutions. The Fest helped the faculty and students of all Institutions of ABES to come on a common platform and merge with their sentiments & sensibilities.
Industrial Visit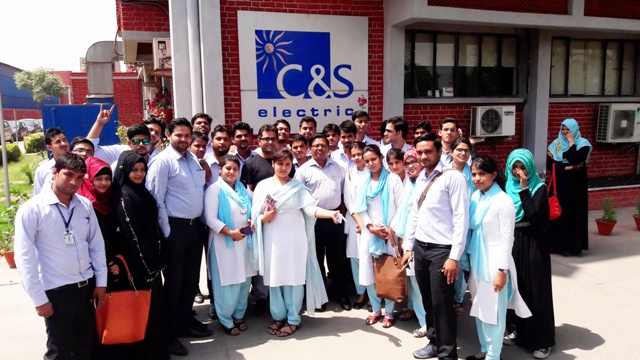 The MBA II semester students visited Asia's leading electrical components manufacturing corporation Control & Switchgear (C&S)- Noida on April 9, 2016. The C&S HR team initiated with a presentation on the company, its product portfolio and its growth trajectory. After presentation, the students were divided into three groups, each led by a company manager for the comprehensive plant visit. The students demonstrated a lot of curiosity and interest in assembly line/relay processes. In the end, the C&S team again addressed the students in the auditorium encouraging them to raise questions & queries related to C&S and its production processes. Overall the trip was highly satisfactory.
Tour
The MBA IV-semester students toured Manali, an exotic hill station, during April 8-12, 2016. The students and faculty cordinators visited various Points viz. Rohtang Pass, Burma Bridge, Revolving Tower, Kothi, Gulaba Fall, Marhi, Solang Valley etc. and taken part in different activities like Camping/Cottage in Himvalley Amusement Park, Bone Fire, Rock Climbing, Puppet Show, Bhangra, Himachali Natti Dance etc. The best part of this excursion remained heavy snow fall during unusual season. Overall the trip was amazing and a memorable experience for all. During the trip NTPC-Koldam, Bilaspur (H.P.) was also covered which was a great learning experience for the students from academic point of view.
Campus Placements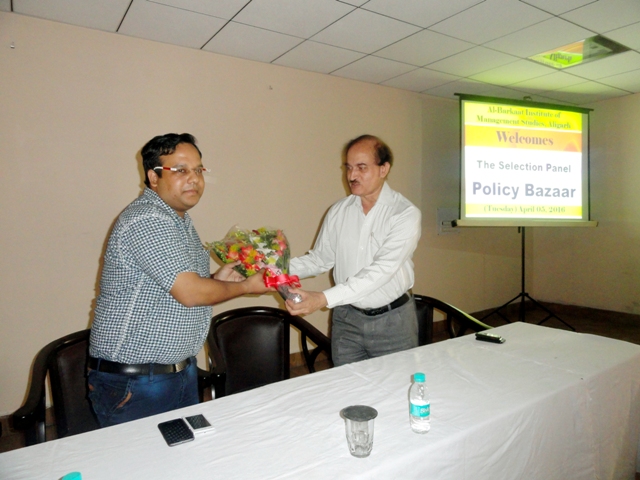 This year, Career Development Cell has organized more than 15 placement drives so far for 2014-16 batch. The notable recruiters are- Parle Biscuits, BACS Hitech Engineering Ltd, ICICI Bank, KIPS Publishing Group, Genpact, Policy Bazaar, GI Aviation, Capital Trust, Vatika Group, HCM Infosystems, CADD, I-Veda Consulting, Mansukh Finance & Securities Ltd., Jaro Education, Investors Clinic, SoftNice Inc., Deyor Rooms etc.Amongst the successful students, the following students are those who have bagged more than one employment offer. Mohd. Adeel, Mohammad Adnan, Afreen, Amaan Khan, Fiba Zaidi, Harsh Gupta, Mohd. Ikram, Mohd. Arshad, Mohammad Rashid, Mohd. Warish, Musheer Khan, Nishat Fatima, Mohd. Rashid, Sahar Shahid, Shabana Khan, Mohd. Suboor, Tazeen Suhail, Usuf Khan, Zakaria Ahmad Laskar, and Zeba Riyaz. The efforts are on to tie-up with more corporate recruiters.
Happy Club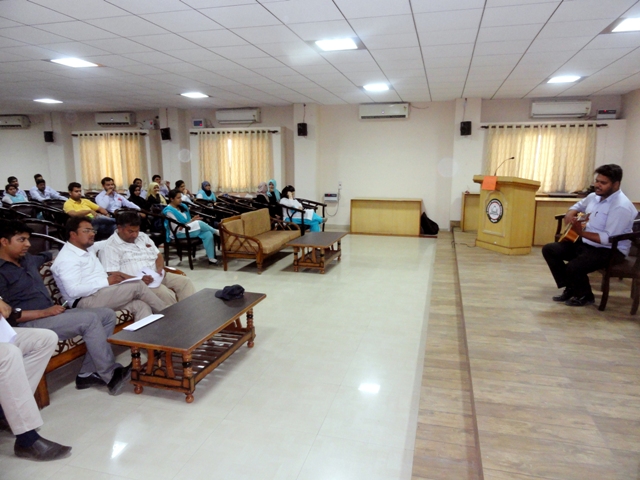 The students of MBA conceptualized the "Happy Club" as an all encompassing master club wherein different sports, literary, social and cultural activities shall be undertaken via relevant sub-clubs. The Music Club as a sub-group within Happy Club organized a solo singing contest on April 28, 2016 where Ms. Hera Ayub, Mr. Mohd. Yousuf Javed and Ms. Tazeen Suhail got 1st, 2nd and 3rd prizes respectively. The Post bearers of the Happy Club are Mr. Mohd. Yousuf Javed, Ms. Hera Ayub, Ms. Naureen Ahmad, Ms. Ilma Khanam, Mr. Mohd. Faiyaz Khan and Mr. Rohan Varshney.
Farewell Party (Hasta La Vista)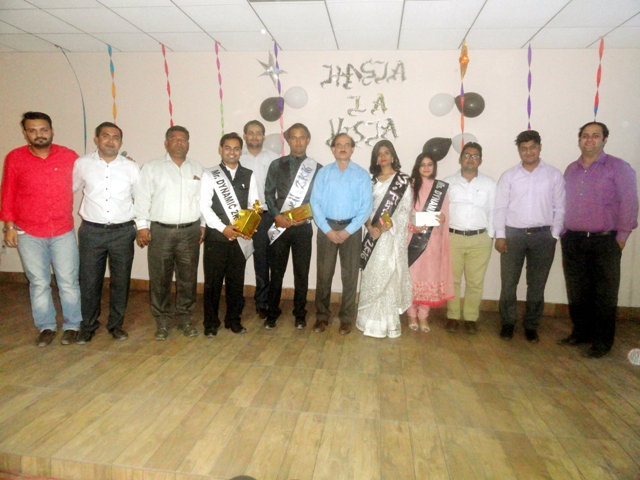 In line with Institutional norms, this year MBA first year students bid adieu to MBA final year students by organizing a grand Farewell Party 'Hasta La Vista' on May 2, 2016. Tazeen Suhail, Musheer Ahmad, Afreen and Harsh Gupta were adjudged Ms. Farewell, Mr. Farewell, Ms. Evening and Mr. Evening respectively. Both the junior and senior students showcased their talents through various activities and presentations. Amir, Mohd. Yousuf Javed, Sonali, Hera Ayub, and Anuj compered the event. The Coordinator, ABEIs, Dr. F.U. Siddiqui; the Director, ABIMS, Dr. Waseem Ahmad; the Principal, ABIE, Dr. Sameena Fazli; the Director, ABSHCC, Mr. Maaz Hussain and Faculty & Staff Members graced the occasion by their presence.
Career Counseling and MBA Awareness Campaign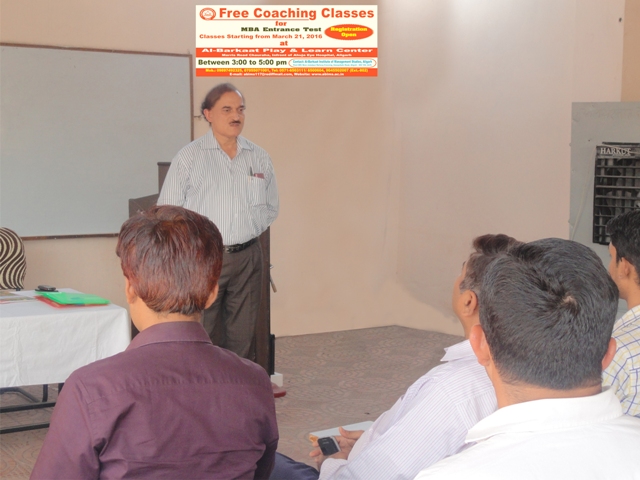 The Al-Barkaat Institute of Management Studies (ABIMS), in line with project Rahat, the CSR initiative of ABES, organized free coaching classes for MBA entrance tests for aspiring students belonging to lower socio-economic strata. The ABIMS Team also visited degree colleges in Bulandshahr, Jawan, Chandausi, Aligarh, Sikandrarao (Hathras) and through a PPt presentation it briefed & counselled undergraduate final year students about choosing their right career opportunities after graduation.
FRESHERS' ORIENTATION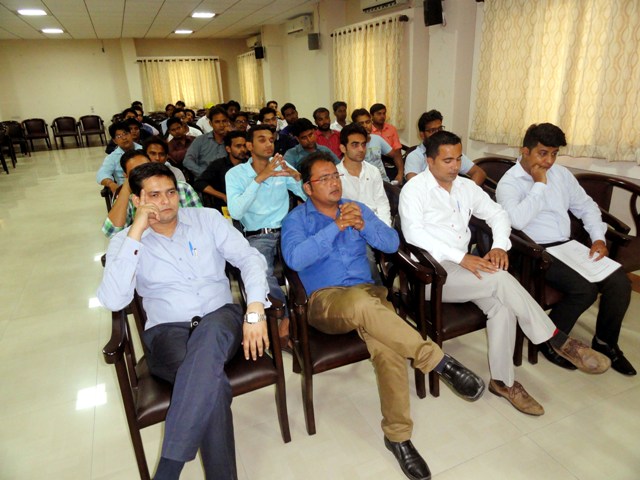 An orientation programme was organized on August 22, 2016 to welcome and induct the fresh MBA entrants to ABIMS. The programme was designed, developed and executed by ABIMS faculty members under the able guidance of director. In a participatory mode, the new batch students were introduced to the academic code and conduct rules, syllabus, students clubs and literary, cultural & management events, students development programme, language lab, examination system and placement process. The director welcomed the new students and shared with them the guidelines and code of conduct of the institute to be necessarily followed by them during their stay over here. The faculty and staff members introduced themselves to the freshers. The fresh students were also encouraged to come to the podium and introduce themselves. The last session comprised of campus visit (important locations like computer lab, library, common room etc.) of the students led by faculty members.
TEACHERS' DAY
On September 5, 2016, Teachers' Day was celebrated by MBA-III & I semester students with great zeal and enthusiasm. In his address, Dr. Waseem Ahmad, Director, ABIMS, shared as how Dr. S. Radhakrihsnan inspired his followers to celebrate his birthday as the Teachers' Day in India. Dr. Ahmad M. Siddiqui, Joint Secretary, ABES, emphasized the importance of moral and value education in current times. The students felicitated the Joint Secretary, ABES; the Director, faculty members and staff. Also, the MBA students presented high-impact various cultural programmes. The Faculty Members thanked the students for successfully organizing the event and felicitating them on the occasion.
GUEST LECTURE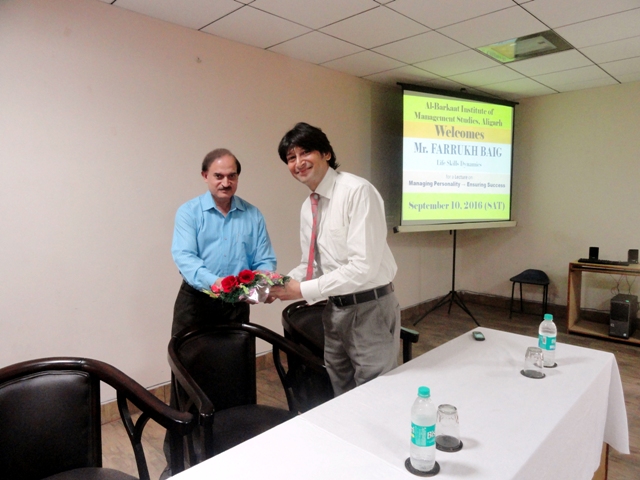 Mr. Farrukh Baig, Senior Business Partner with Life Skills Dynamics and Brain LabsAn interactive session on "Managing Personality for Success" was led by Mr. Farrukh Baig on September 10, 2016. Mr. Baig stressed that one should not be discouraged by the failures occurring during initial phases of career, rather focus must be on strength of character and courage to move on, at a not so distant corner awaits success. The session was attended by the students of MBA-I and III-semesters. The Director and all the faculty members were also present during the session. While welcoming the guest and addressing the students, director advised them to keep away the fear of failures as every success comes after failures.
MILAN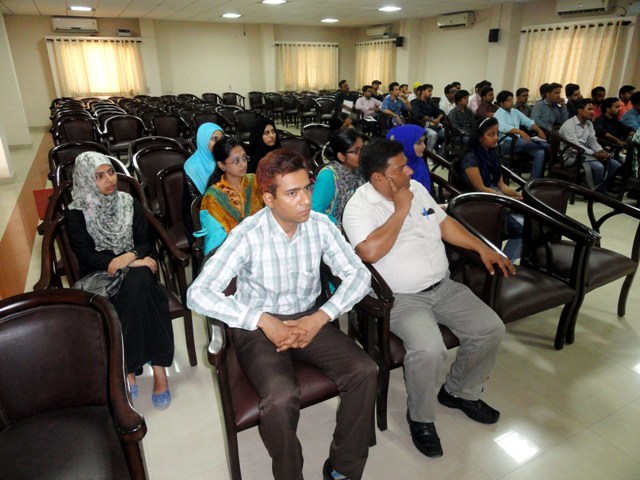 Milan-2016, an interactive session between students of MBA-I and III-semester students took place on September 20, 2016 under strict supervision of the director and faculty members. Both I semester as well as III semester students shared their brief introduction, major hobbies and interests, motives to join MBA and ABIMS. The 1st semester students notably Safwan Akhtar, Faraz Ali, Majid Khan, Wardah Tamhid, Mariyam, Mohd Zuhaib Khan and Hiba Zaidi demonstrated their talents. During this event, seniors (3rd semester students) briefed their juniors (1st semester students) about various literary, cultural, sports and other activities being undertaken by ABIMS under Happy Club. Nominations were also invited from 1st semester students for various leadership positions reserved for 1st year students. The Director and all the faculty members were present during the event.
FRESHERS' PARTY (Roobaroo)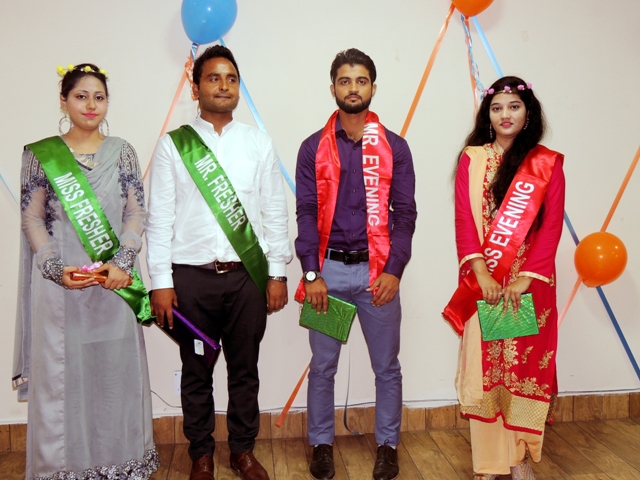 M.B.A – III sem organized 'Roobaroo' the Freshers' Party as the welcome gesture to their juniors on September 29, 2016. For identifying suitable candidates for the titles of Mr. & Ms Fresher and Mr. & Ms. Evening, faculty members devised a 3-tier selection process. In the 1st round, students were evaluated on the basis of their presentation skills and dressing sense. In the 2nd round short-listed students from 1st round were encouraged to demonstrate a leading skill/talent of theirs. In the 3rd and final round, students were to randomly pick a slip asking them to speak on an issue/topic mentioned therein. Wardah Tamhid and Majid Khan received Ms. Fresher and Mr. Fresher titles while Shaista Sheikh and Mohammad Zafar Zahid bagged the Ms. Evening and Mr. Evening titles respectively. Amir Zia, Bushra Rahman, Mohd. Yousuf Javed, Naureen Ahmad, Athar Ali, Mohd. Faizan, Mujahid, Waseem Nazir Bhat, Hera Ayub, Ilma Khana and Ilam Khanam took active part in planning, organizing and executing the event. Mohammad Yousuf Javed, Hera Ayub, Shafwan Akhtar, Faraz Ali, Hiba Zaidi, Mariyam, Majid Khan etc. entertained through their beautiful performances. The Coordinator, ABEIs, Dr. F.U. Siddiqui; the Director, ABIMS, Dr. Waseem Ahmad; the Principal, ABIE, Dr. Sameena Fazli; the Director, ABSHCC, Mr. Maaz Hussain and Faculty & Staff Members graced the occasion by their presence.
VIGILANCE AWARENESS WEEK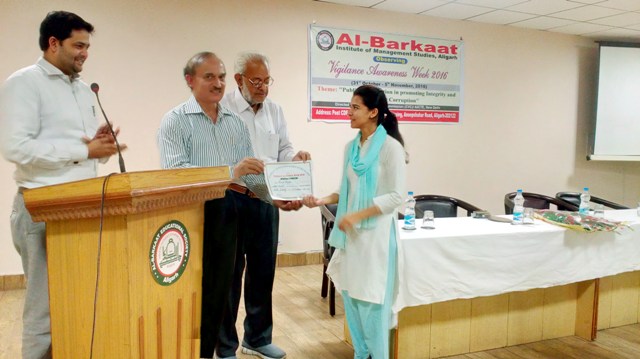 ABIMS observed Vigilance Awareness Week-2016 (October 31- November 5, 2016) as directed by the Central Vigilance Commission and AICTE, New Delhi. It started with Pledge taking ceremony by students, faculty & staff on its first day followed by various activities like quiz, debate, essay writing competition, poster making and guest lecture on the prescribe theme "Public participation in promoting Integrity and eradicating Corruption" organized during the Week. Quiz competition was held on November 1, 2016, wherein the teams of Mohd. Yousuf Javed & Bushra Rehman (MBA III semester) and Usama Sherwani & Shahrukh Khan (MBA I semester) stood winner and runner-up teams respectively. In Debate competition held on November 2, 2016 on the sub-theme "Corruption is a Necessary Evil" Shahrukh Khan and Mohd. Yosuf Javed stood winner and runner up respectively. In Essay Writing competition on the sub-theme "Public participation in eradicating Corruption" held on November 3, 2016, Wardah Tamhid and Maryam, both from MBA I semester stood winner and runner-up respectively. In Poster Making on the sub-theme "Corruption and Economic Development" held on November 4, 2016, Hera Ayub and Afreen stood winner and runner-up respectively. On the final day of the Week (November 5, 2016) a guest lecture was delivered by Prof. (Retd.) Shah M. Waseem, F/o Commerce, AMU on the key theme. The winner and runner- up students/teams of various events held during the Vigilance Awareness Week-2016 were given the certificates of appreciation.
ALUMNI MEET (TAJDEED-2016)
ABIMS successfully organized its 1st Alumni Meet 'Tajdeed 2016' on November 26, 2016. Alumnus and alumna from last 11 passed-out batches took active part and represented their batches. The event comprised two sessions; inaugural and cultural. Lt. Gen. (Retd.) Zameeruddin Shah, Hon'ble Vice Chancellor, AMU, Aligarh was the Chief Guest and Mr. Vivek Bansal, Ex-MLC & Gen. Secy. ABES presided over the inaugural session. Dr. Ahmad M. Siddiqui, Joint Secretary, ABES welcomed the guests, Dr. Waseem Ahmad, Director, ABIMS, gave a brief overview of the event and Dr. FU Siddiqui, Coordinator, ABEIs, delivered the vote of thanks. The post-lunch session began with alumni-students interaction on general and domain specific themes and alumni bytes followed by cultural and alumni felicitation programme. Mr. Ajay Tomar, Sr. Unit Manager, the Dainik Jagran, Aligarh was the Chief Guest for this session. ABIMS students presented beautiful solo & group songs and skits. The alumni also shared their memories through presentations, songs and speeches. Ms. Taab Anwar (2007-09 batch alumna) coordinated the alumni felicitation ceremony.