Events - 2013
Visit of Prof. Gordon Campbell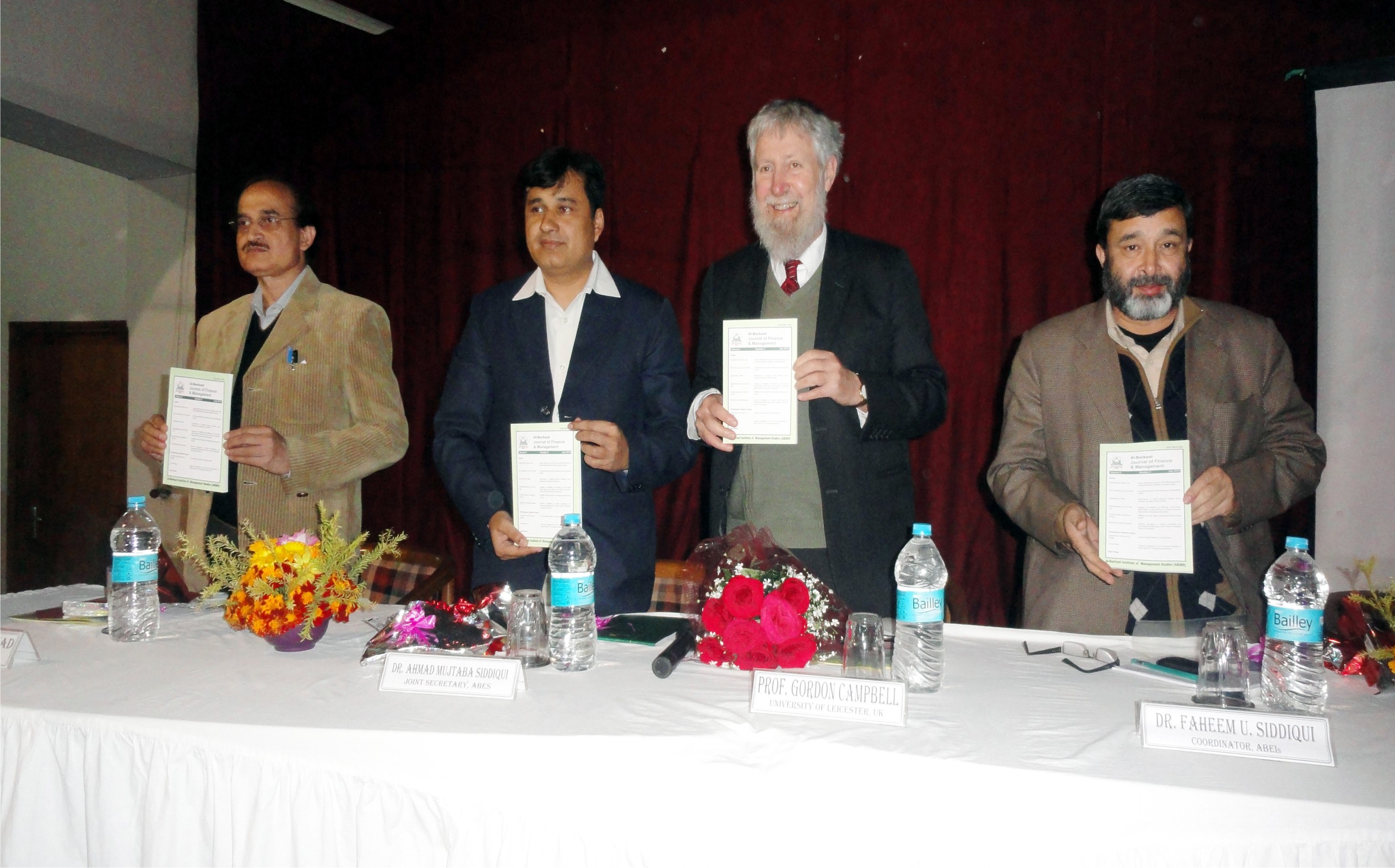 Prof. Gordon Campbell, University of Leicester, UK visited Al-Barkaat Institute of Management Studies on February 6, 2013. He interacted with the faculty members and also delivered a lecture on 'The Contemporary Educational Practices'. He also released the 8th issue of Al-Barkaat Journal of Finance & Management.
Visit of Lt. General (Retd.) Zameer Uddin Shah, V.C., AMU
Lt. Gen. (Retd.) Zameer Uddin Shah, Vice-Chancellor, Aligarh Muslim University, Aligarh visited Al-Barkaat campus on February 10, 2013 to lay the foundation stone of Al-Barkaat Institute of Education. His wife Mrs. Sabiha Simi Shah inaugurated the Convention Hall at ABIMS. On this occasion, the Vice-Chancellor praised the contribution of Al-Barkaat Educational Society in the field of education and expressed hope that it continues with its relentless efforts in the field of education in future as well.
Excella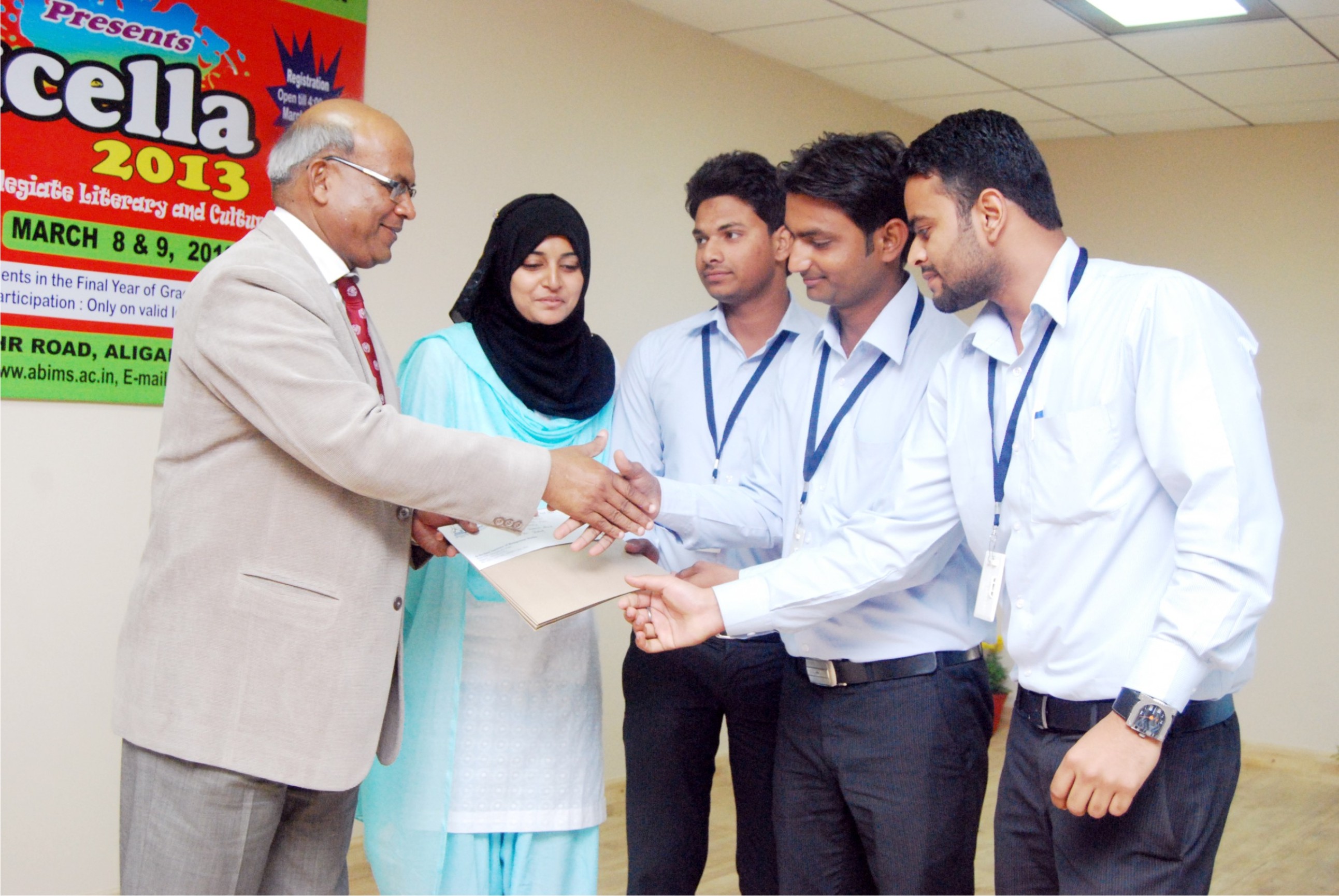 A two day Inter-Collegiate Literary and Cultural Fest was organized on March 8 & 9, 2013. It featured events like Essay Writing Competition, Debate & Ad-mad Show. Minute to Fame, GenBiz and Ghazal & Singing Competition.
Farewell Party
Farewell party under the name 'Shaam-e-Tarab' was organized by the MBA First year students for the Final year on April 25, 2013. It was a fun filled evening with exciting performances like mimicry, singing and skits by the students which lifted the mood of the evening.
Job Fair
ABIMS in association with New Search Group organized a Job Fair on May 5, 2013. Many companies like RJT, BP Incorporate, Astha Nursing, GSR Group, Hotel Regent, New Search Group, E-fusion, Hotel Palm Tree, CEC, Family Pure RO, 32nd Mile Stone, Roto Power, EFS Facilities Services participated in it. Many students were offered multiple offer letters from the companies that participated in Job Fair.
Orientation Program
An orientation program for the MBA First year students was organized on August 16-17, 2013 to acquaint them with the ABIMS way of life and make them familiar with the Institute's Vision and Mission besides the Code of Conduct of the University and the Institute.
Milan
Students of MBA Final year organized 'Milan 2013', an interactive session for the MBA First year students on September 2, 2013. Milan 2013 provided a pedestal for healthy interaction between the first and final year students.
Teachers' Day Celebrations
Students of MBA Final and First year celebrated Teachers' Day on September 5, 2013, the birthday of Shri S. Radhakrishnan, the second President of India and a renowned academic.
Sapling Plantation Program
As a part of Fun Club Activities a sapling plantation program was organized by the members of Fun Club on September 14, 2013. The program aimed at increasing awareness and necessity of conservation of environment.
Freshers' Party
MBA Final year students extended a warm welcome to their juniors by organizing a Freshers' Party on September 28, 2013 under the name Noor-e-Farouzan. With kind wishes dipped in lyrical ink, they compared the arrival of the Freshers with a whiff of fresh air.
Grooming Session for Female Students
Hindustan Unilever Ltd. (HUL) organized a grooming session for female students on September 30, 2013 in ABIMS. The representatives of the company highlighted the role grooming plays in everyday life especially the modern corporate world.
Symposium on Wildlife Protection
Al-Barkaat Educational Society and District Administration, Aligarh organized a symposium on Wildlife Protection on October 7, 2013; the last day of Wildlife Protection Week celebration (October 1-7, 2013). Presiding over the session, District Magistrate, Aligarh, Mr. Rajeev Rautela shared interesting anecdotes with the students on his experience of the days spent in the hills and stressed on the need for wildlife conservation.