Director's Message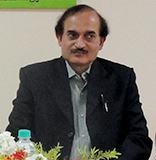 To keep pace with the speed at which the business world is moving, managers with "on the feet" thinking capabilities are required. The pace at which the business world is moving is extremely swift requiring nimble-footed individuals able to adapt quickly to all circumstances.
The challenge for managers is of synchronizing opportunities with cost and performance efficiencies at the organizational level. From the modest beginning in 2004, ABIMS has been growing into a fully integrated global business school believing in developing budding managers. The education imparted at ABIMS prepares the students to meet the challenges of the rapidly changing business world.
Infusing management leadership in students requires a well planned MBA program. We therefore at ABIMS not only confine our teachings to classrooms but we also enrich academic curricula on regular basis through various Students Development Programs by our own faculty and also by engaging the external consultants. These programs aim at increasing the prospects of the students and give them the conviction and confidence to face the world. Whether a student imagines the future as a business leader, a technocrat or a policy maker, the journey begins from ABIMS with right competencies that help the student to achieve personal and professional goals throughout his/ her life.
Events like sports festival, communal harmony day, conferences, seminars, fresher's & farewell parties go hand in hand with the program of study. These events are organized by the students of the Institute and give them a chance to exhibit their talent & managerial abilities. Industrial visits are organized to give them the insights about the working of the industry.
Guest lectures by the eminent personalities from the industry & academia are hosted to give a practical dimension to their learning. Besides this the Institute has always lent its cooperation in spreading social awareness.
These aspirations cannot be fulfilled unless the support and coordinated efforts of the faculty is extended. The well qualified and competent faculty of ABIMS has always provided warm assistance in all its endeavors and it looks forward for more such concerted efforts from them to make ABIMS the best so that it leads to the service of the nation and service of humanity all over the world.
ABIMS is an exciting place to study and grow. It is a place where thinkers become leaders, a place where the thirst for knowledge fuels our desire for distinction. We are committed to educating business leaders who are analytical and creative thinkers, as well as effective team players.
I welcome you all to this program assuring a warm and enriching stay.
Dr. Waseem Ahmad